i havent updated in a loooong while.

got really busy towards the end of July, of all times when sch is beginning soon enough, and when work is starting to slow down.

just some quick recap of events, so that one day when im too free, i can look back on those days (:

-company lunch on our last day.
Melvin and I were temp staff whose last day was on the 31st July, because sch wld be starting respectively on the 11th Aug and 4th Aug for us.
he's studying medicine at NUS. how cool is that?!

it's been good while it lasted, despite the mundane and repetitive nature of the job, as well as some damn rude ppl over at the other end of the phone.

the pay was good, i became closer to baby's friends, got an inkling of his job scope, and got to spend a lot of time with him (during which, im glad to say, we didnt have much conflicts to speak of)
so, on the last day, i wasnt in a working mood, i started folding stuff i printed out from cubeecraft.com.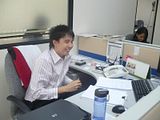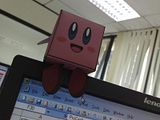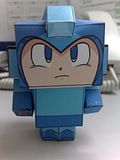 haha, i got caught on cam.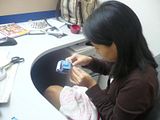 that's Mr.Future Doctor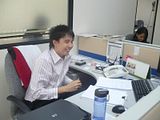 and my colleagues. dont fancy each and every one of them (office politics and work ethics differences) but i really enjoyed the company of some.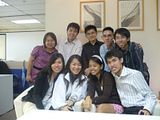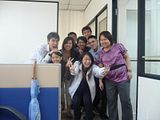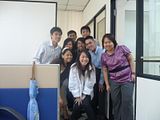 -1st Aug was a really good day. super chill-out (:
baby skipped work and since he stayed over the night before, we headed out for a simple brunch at the market, and returned home to PS3 games. hahah. i pissed the shit outta him though, cuz aft he completed the mission, i accidentally switched the PS3 off without him saving it yet. =/ i know, it's my fault. can't run away from that.

jeanie came over in the evening b4 we 3 headed out for a Botak Jones dinner and some baking grocery shopping in the neighbourhood. i was a happy girl, my girlfriend and boyfriend with me (:

while jeanie and i baked a chocolate cake loaf (sth like tt) for carol's belated celebration, baby holed himself in my rm to play game -.-'' haha. it was fun baking! although i was doubtful, the end pdt turned out to be like a cake-bread, which is why it's called cake loaf.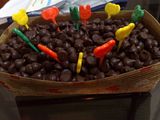 so baby left and shortly, carol arrived for our sleepover. well, not quite. that girl reached only around 11.30PM -.-'' heh.

-2nd Aug saw us 3 preparing and going for a picnic at the botanical gardens.
it was good while it lasted, until the sun became a lil too scorching and the ants started making their way to us. im quite convinced i got a mild allergy to grass bec since tt day my legs have been showing signs of rashes and there are those lil disgusting bumps that wouldnt go away and wld get so itchy sometimes!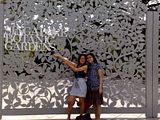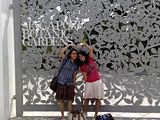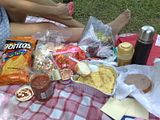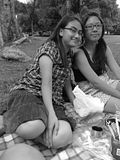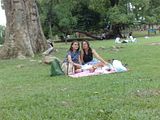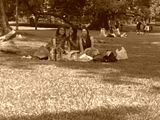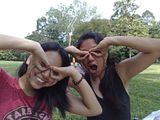 we headed to New Bridge Road after that in search of Casualpoet. oh gosh, we walked and walked and walked but we just couldnt find it :( sorely disappointed and the sun was so brutal we had to take a brolly out! -.-'' but the endless walk wasnt futile because carol spotted some photo taking opportunites. haha.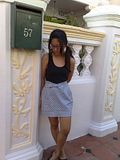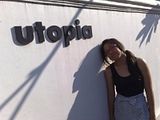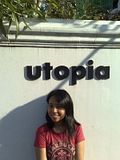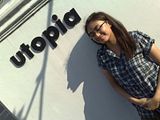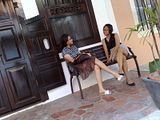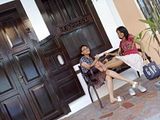 still.
proof of my annoyance at the heat.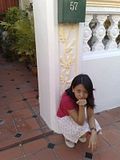 "Utopia" at that point of time would be a cold iced lemon tea (OMG DID I JUST TYPE THAT) and a day-bed, with ME lying on it, under a BIG BIG umbrella.


then it was dinner at some People's Park hawker centre. not too bad (: nv knew it existed. haha.

off to Clarke Quay after that! on the way from Chinatown, we got to witness for ourselves the planes (i heard they're called the Red Knights) performing stunts in the air for the national day rehearsal. it was awesome! (: the unity, the precision, even the loud loud roaring of the planes. also caught one of them doing 360 degrees turns 4 times consecutively! how cool is that right!! we found ourselves stopping in the middle of the roads to look up at them.. haha. not wise, not wise.

i LOVEEEEEE Clarke Quay at night for its vibrance, bright lights and bustling along the streets and in the restaurants, cafes and pubs where tourists and locals alike would be chattering away.

so we were there that night, as pseudo-tourists. heh. we took a $13 30min boat ride along S'pore river. kudos to jeanie for coming up with that suggestion, because i got to appreciate the scenery at a different angle (: was quite disappointed initially cuz we couldnt get to the Merlion since the usual route was cut off due to Marine Police Patrol in view of the rehearsals. BUT BUT BUT! as the boat made a U-turn back, we heard explosions! and yes!! FIREWORKS!! <3 i kept telling the girls tt i had a feeling we'd see some beautiful fireworks and i was constantly hoping so, to the point where i kept thinking i heard the "BOOM BOOM" sounds. so, imagine my elation. hahaha. it was so F-fabulous ((: one of the more special nights i have ever had.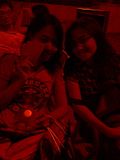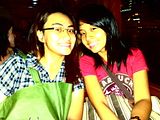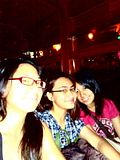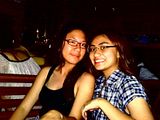 ended the night with tofu cheesecake, black sesame pudding and a Mojito at the Japanese restaurant just outside Central Mall. the desserts are melt-in-your-mouth-awesome! (: i wna go back there again and try out more more MORE. heh!

took the train down to Boonlay that night, and slpt over at his place. was good to see him after the long and tiring day because i wanted to share with him our "adventures". heh.

Yoga-ed the next day at Jurong Point's Amore and i must say it was a pretty good experience. the instructor was accomodating and interactive. patient enough so that newcomers like Lindy and I didnt feel out of place (:
cant wait for more! really hoping to slim down and tone up soon (:

now sch has started.. but more on that in my next post. and possibly, subsequent grouse-filled posts. haha.